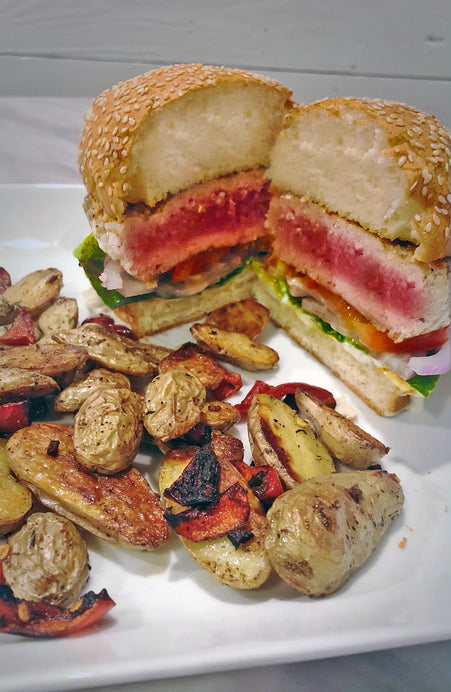 Seared Ahi Burgers with Roasted Fingerling Potato "Fries"
Recipes
Lindsey Qualman
June 10, 2021
Four Star's Yellowfin Tuna Burgers are extra special. Made with 100% sushi-grade Tuna and nothing else, they taste like you're eating a high-grade Tuna Steak on a bun. 
Handmade daily by our chefs, the most flavorful part of the Tuna is scraped from the bones and finely chopped to make these burgers. No fillers whatsoever. 
We keep the fixings fresh and simple — with crisp Banana Fingerling Potato "Fries" on the side for some crunch — allowing the bright and meaty Yellowfin Tuna flavor to take center stage.
Ingredients
Yields 2 servings. 
Burgers:
Roasted Fingerling Potato "Fries":
1lb of Banana Fingerling Potato (Chopped into half size pieces.)
1/2lb of Cherry Bomb Peppers (Seasonal — if not available sub with 1 Red Bell Pepper, diced.)
2 tablespoons of Oil (For potato mixture and to coat the large sheet pan.)
3 cloves of fresh Garlic, finely minced
3 sprigs of fresh Thyme, chopped
3 sprigs of fresh Rosemary, chopped
Dash of Sea Salt and Cracked Black Pepper to taste
Instructions
Roasted Fingerling Potato "Fries":
Start on the Potatoes first. Begin by preheating the oven to 425 F degrees.
In a large bowl, toss the Banana Fingerling Potatoes with the Cherry Bomb Peppers, 1 tablespoon of Extra Virgin Olive Oil, Garlic, Thyme and Rosemary.
Add 1 tablespoon of Extra Virgin Olive Oil to coat a large sheet pan and spread the potatoes evenly on the pan.
Sprinkle Sea Salt and Cracked Black Pepper over the potatoes.
Roast Potatoes at 425 degrees for approx. 20-25 minutes — or until they are the perfect crispy golden color to your liking! 
Burgers:
When potatoes are about 5-10 or so minutes away from being done (depending on the total number of burgers you're cooking) coat a large grill pan with oil and preheat on high until very hot.
Sear the burgers on each side for about 1-2 minutes each for a rare to medium rare interior. (We like ours very pink inside, but for medium, sear for 3-4 minutes or to your liking.)
Toast the buns and spread both sides with tartare or mayo of your choice. Then layer on two little gem lettuce leaves, sliced tomato and red onion with the burger to complete.