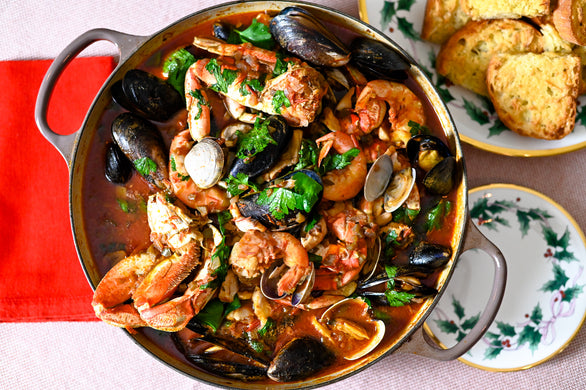 Classic San Francisco Cioppino for the Holidays
How To
Abigail McCallum
December 05, 2020
This indulgent, tasty seafood stew originated here in San Francisco where fisherman would combine their respective seafood catches of the day into a nourishing communal seafood meal.
Be prepared to crack some shells and get your hands (and clothes) messy as this stew benefits from the flavor of the seafood being cooked in their shells.
This recipe was built specially to accompany our Cioppino Kit.
---
Ingredients
Serves 2-4*
6oz olive oil
1 head chopped garlic
1 pinch red pepper flakes
1ea onion – small dice
3ea green pepper – small dice
3 bay leaf
4 strips of orange peel
1T toasted fennel seeds
2 cups red wine
1ea Dirty girl tomatoes in jar
1-pint whitefish bone broth
1lb mussels
1lb manila clams
1 fillet rockfish (cut into strips)
1/2lb prawns (16-20)
2ea Dungeness crab halves
1bu flatleaf parsley - chopped
*Pictures indicate a recipe for 4-6 people
---
Preparation
1. Toast your fennel seeds over low heat until they become fragrant.
---
2. Heat your whitefish bone broth if frozen. 
---
3. Prepare your mise en place: dice your green peppers and onions. Set aside your chili flakes, bay leaves, and garlic.
---
FOR THE TOMATO RED WINE BASE
1. This cioppino base can be made in advance. In a large pot, gently heat olive oil with garlic, chili flakes and 1TB salt over low-medium heat.
---
2a. When you see just a small bit of golden color, add the diced green peppers.
---
2b. Then add the onions and bay leaf to stop the browning.
---
3. Add orange peel and toasted fennel seeds. Sweat over low-medium heat until translucent.
---
4. Add the red wine and turn up the heat to medium. Reduce the wine by about 2/3.
---
5. Add the tomatoes.
---
6. Add the whitefish broth, heat to a simmer and let simmer for about 5 minutes. If not serving right away then chill down and reserve.
---
When you are ready to serve
1. Heat the cioppino base in a large pot.
---
2. While the base is heating, prepare your shrimp. The shrimp can be peeled and deveined, but we chose to cook the shrimp in its shell deveined to enhance the flavor of the dish. If you'd like to proceed with the "Four Star Method": using a scissors cut the backside shell of the shrimp and clean running your thumb along the opening.
---
3a. Add crab.
---
3b. Add Shrimp.
---
4. Add clams, mussels, and rockfish.
5. Bring to a boil and cover with a lid. When seafood is cooked through and shellfish has opened, take the pan off the heat. Season with salt and pepper. Add flat-leaf parsley and pour contents of pan over garlic bread in a pasta bowl.
Enjoy!
---
FINISHED DISH