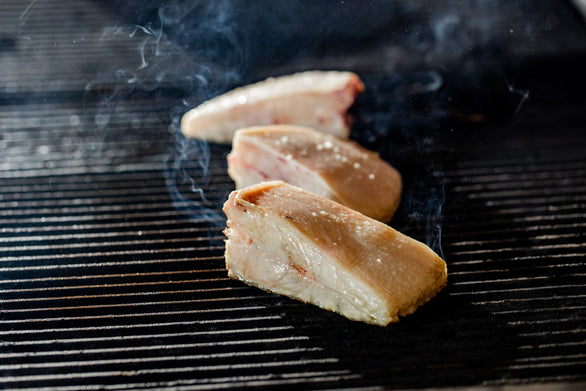 5 Chef Tips to Up Your Fillet Game
Tips & Tricks
Abigail McCallum
March 31, 2023
1
Dry Dry Dry (and Cold)
A dry piece of fillet will eat better when it's raw and will cook up better when cooked.  Pulling the natural "water" away from the fish improves it greatly.
2
SKIN SIDE DOWN - GET IT CRISPY
When grilling and roasting a piece of fillet, cook it mostly skin side down in a pan, on the grill or in the oven. The skin insulates the fish from direct heat and you will end up with a more tender texture.
3
SCORE IT
"Pinch" the fillet to make it curve up on the skin side and make a few evenly spaced cuts just through the skin layer with a sharp knife. This helps prevent the muscles contracting in the fish during cooking.
4
Consider a Chef's Press or Apply Weight
For crispy skin, get it dry, cook skin side down and apply a medium weight while cooking (the Chef's Press is perfect for this). The skin can be the best part!
5
Consider the slow cook method for salmon or trout
Heat the oven to 225 degrees. 
Let the fillet come to room temperature.  Season the fish and place on a ceramic plate. Then wrap in a piece of plastic wrap. Cook for 20 minutes and serve.  Always soft and great with any herbs or spices you might like as part of the seasoning. Even though the fish looks undercooked, it is lightly cooked and extra succulent.