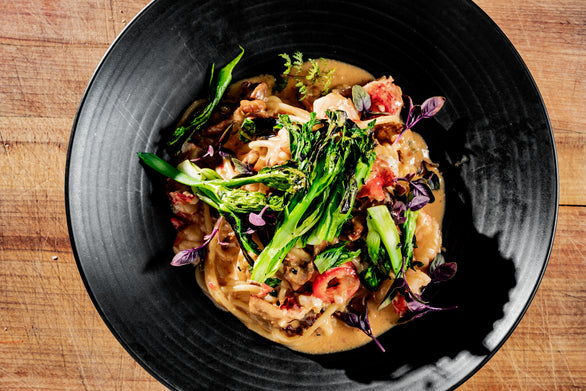 Tips for Tankless Maine Lobster with Chef Erik Lowe
Tips & Tricks
Abigail McCallum
July 11, 2020
It is our great pleasure to feature one of SF's extraordinary treasures -- the one and only, Chef Erik Lowe of Maybeck's. Lowe, a native of Salt Lake City, Utah, began his culinary career by way of the Pacific Northwest. Today he is showing us his tips and tricks cooking with our "TANKLESS" Maine lobsters!🦞
Wait, what? Pray tell? Tankless! Yep! You see, there are lobsters and then there are tankless lobsters. When lobsters hang in tanks, they quickly lose their character and a lot of their flavor. But not these, lil gems! As soon as your order comes in, Maine harvests them, puts them in a box and flies them to us, where they then go directly to your restaurant or your home! The result: Sweet, supple and delicious lobsters! Don't believe us? Do a side-by-side taste test and then call us for your Tankless Lobster order.
---
Tips for perfectly prepared lobster...
"Best tip on the lobster is to cook the claws and the tail separately. We do a quick stab and chop with a sharp knife through the head to put the lobster to sleep then remove the claws and tail. We make stock from the body for the pasta sauce. Both the claws and tails get cooked in simmering salted water for different times. Claws 3 minutes, Tails 1.5 minutes, Knuckles 1.5 minutes. Then plunge into an ice and water bath to stop the cooking. This par cooks the lobster enough to remove the meat in tact from the shells but it's still rare so we can cook it back to perfection in the Lobster Sauce for the pasta dish right before we serve it."
Tankless Lobster Spaghetti with Chanterelle Mushrooms, Bok Choy Rabe from Heirloom Organics Farm.
SOME BACKSTORY ON THE DISH
---
To say this dish was epic would be a bit of an understatement. We asked Chef Lowe to share a little backstory on its creation and this is what he had to say...
"Aaron Toensing (Chef/Partner) and I met while working in a wonderful little local supper club years ago and a version of this dish was a staple on the menu. This rendition of the dish is inspired by what we do at Maybeck's:
A. We like to elevate everyday food with great ingredients and technique.
B. We respect our farmers and purveyors. We've been doing business with Cain Monti for at least 10 years now, when he partnered with Four Star Seafood it was a no brainer for us to buy from them, we knew they had to be great if they had Cain on board.
We like to do this dish every Friday night and we prep it from scratch so everything is top quality and the best of the market. When we run out we run out. -
Get yours tonight at Maybeck's in the Marina!
ABOUT CHEF ERIK LOWE
Ever since he was a boy, he and his family visited relatives in Washington State where he learned to fish for Dungeness crab and tasted water-to-table cooking for the first time. During high school, he worked at a few local restaurants in Salt Lake City before taking a position at the Porcupine Pub & Grill where his passion for cooking began to take hold. One blizzard-struck day, Lowe decided to skip class at the local community college and go skiing. En route, his car broke down. He proceeded to hitchhike his way to the slopes when chef Gary Pankow of the lauded Café Diablo serendipitously picked him up. What began as a casual conversation during the ride ended in a job offer. Lowe skipped town and moved to southern Utah where he spent the summer season cooking refined Southwestern food.
In 2001, Lowe enrolled at the California Culinary Academy in San Francisco. Upon graduating
in 2003, he took a job at Jeanty at Jack's under the tutelage of Chef
Justin Deering. Lowe quickly ascended to sous chef, a post he held for two years. From there he helped launch the now-closed Tartare restaurant and intermittently cooked at Piperade and Bocadillos. In 2006, Lowe joined Hiro Sone's team at Ame as Greg Dunmore's executive sous chef. Together the team was awarded a Michelin star in 2008. In 2009, he landed the chef de cuisine job at BIX, a beloved San Francisco fine dining establishment. He helmed the kitchen for four years before helping chef-owner Bruce Hill and the Real Restaurants team re-open another San Francisco institution: Fog City.
It was during his time at BIX and Fog City that Lowe met his now business partner and pastry chef Aaron Toensing. Together they began to talk about opening a restaurant, a fantasy that evolved from a burger spot to a traditional red sauce joint to Maybeck's, a refined San Francisco eatery serving up innovative American standards.