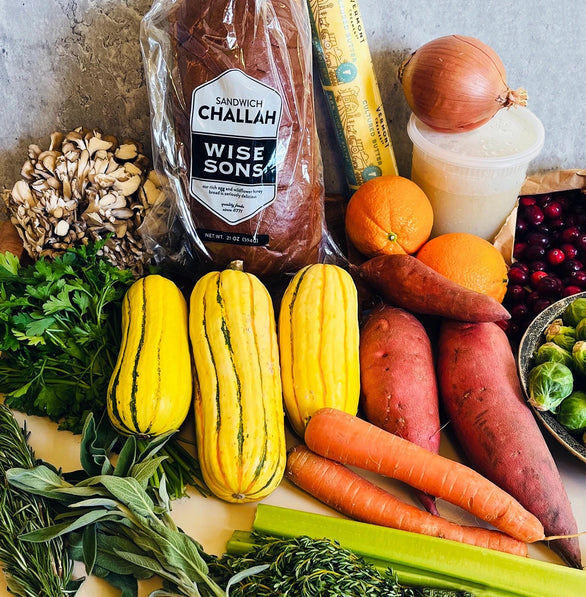 Four Star Stuffing & Cranberry Sauce Recipes
Lindsey Qualman
November 21, 2021
Happy Thanksgiving, folks! If you've landed on this page -- here is where you'll find all the details on our Turkey Dinner Side Dish Kits.
First and foremost, we want you to know that these Kits are intended to be just the start! Our team of chefs crafted these kits so you can mix and match the ingredients at your discretion. We emphasize that there is no right or wrong way to prepare your food because everything is interchangeable. The instructions below are just a guide. 
However, we have provided more structured step-by-step directions for the stuffing and cranberry recipes, below. YOU get to decide how you want to prepare the veggie sides, which include some tasty Delicada Squash, Brussel Sprouts, Sweet Potatoes, and Maiitake Mushrooms. For example, the Maiitake Mushrooms can be added to your stuffing, or you can grill them on their own for a vegan friendly side dish.
Please note that we've also included some extra butter, onion, turkey stock, and spices so you can use all of these trappings to dress up your bird, too.
Really, the sky is the limit with creativity here. Cheers to the art of cooking!
Stuffing Ingredients
- Challah Loaf (Wise Sons) - 1 count
- Turkey Stock (Made in-house by our Chefs) - 1 quart
- Butter (Straus) - 12 oz
- Carrots (McGinnis Ranch) - 2 individual carrots
- Organic Celery (Josie's Farm) - 2 individual stocks
- Yellow Onion (Peri and Sons Farm) - 1 count
- Maiitake Mushrooms - 1 lb 
- Organic Sage (Bay Area Herbs) - 1 bunch
- Organic Parsley (Riverdog Farm) - 1 bunch
- Organic Thyme (Bay Area Herbs) - 1 bunch
Instructions for Stuffing:
1. Dice challah into 1" cubes and let sit out to get stale and dry out. 24 hours should be fine. NOTE: If you don't have 24 hours to spare, the quick and dirty way to dehydrate the bread quickly is to pop it in the oven and let it bake on a cookie sheet until it is hard. Either way, you'll want to make sure the Challah bread cubes you use are nice and hard (NOT SOFT) when you use them or else the stuffing will be mushy!
2. Cut 1 carrot, 1/2 onion, 2 ribs of celery into 1/4" dice. Place all three in a saucepan with 3 oz butter. Cook slowly over low heat. Add 1 tsp of chopped fresh thyme. Add 3 large tablespoons of chopped fresh sage. Add grated or chopped zest of one orange - no pith. Cook until vegetables are translucent and soft. Season well with salt and pepper.
3. Now, we can use many things at this stage for filling out the stuffing! You do you. Go ahead and toss in some sausage, dried fruit, confit giblets/livers, chestnuts, mushrooms, and even oysters! Whichever you decide, add 1.5 cups of that filling chopped in 1/2" size pieces. Heat everything through.
4. Now, put the whole mixture you created from steps 2 and 3 into a big bowl. Add challah. With a spatula or your hand, scoop from below and turn mixture over until everything is well dispersed. The goal should be to not break up the bread too much... some is totally fine.
5. Next, add 2 cups of turkey stock to the bowl and mix the same way. Add more if needed -- but only to give the stuffing a "heavily damp" feel -- but not wet-wet. Make sure you DO NOT add too much stock! 
6. Taste the mixture and adjust the flavor with salt and pepper. Place stuffing in a casserole about 2" deep.
7. Take another 3oz butter and dice into small cubes. Dot the top of the stuffing with the whole butter.
8. Bake in a 395' oven for one hour or until a bit crusty on top and still soft and damp in the middle. Enjoy!!
Cranberry Sauce Ingredients
- Valencia Oranges

 
(Brokaw Ranch)
 - 2 count
- Cranberries (From Our Local Farmers) - 12 oz
**Ingredients You'll Need / Not Included**
- Granulated Sugar - 1/2 cup
- Light Brown Sugar - 1/2 cup
- Water - 1/2 cup
- Pinch of salt
Cranberry Sauce Instructions:
1. Start by zesting one of the oranges. Just make sure to leave the white pith behind to avoid any bitterness. If you decided not to use any orange for the stuffing, use both here. Set aside. 
2. In a large pot, combine the following: all of the juice squeezed out of the orange(s), 1/2 cup water, one tablespoon sugar, and one tablespoon brown sugar. Bring this mixture to a boil.
3. Once the mixture is boiling, add the 12 oz package of cranberries, orange zest, and salt. Then let the mixture boil GENTLY all together for about 10 minutes.
4. Most of the cranberries should burst open, creating a thick sauce. If not, gently mash the cranberries using a spoon.
5. Transfer the sauce to a bowl and refrigerate until ready to serve. Enjoy!