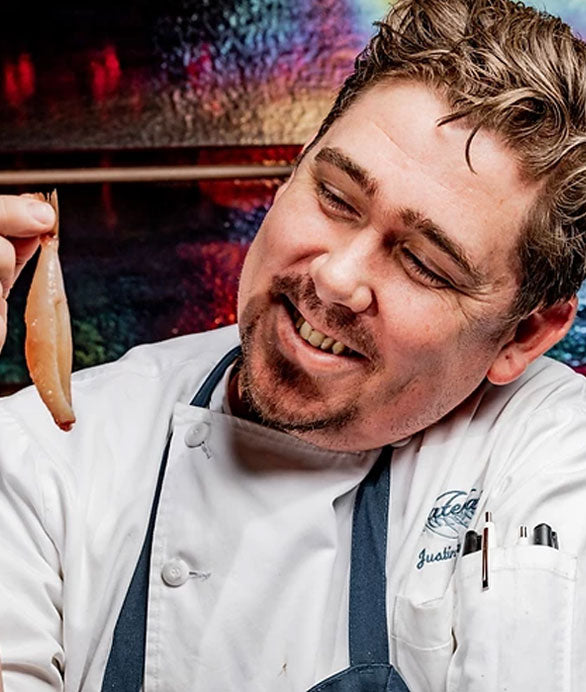 Blowfish Tails & Uni with Chef Justin Baade
4 min read
Abigail McCallum
July 10, 2020
Meet Chef Justin Baade of Waterbar! This week we challenged him to create a dish with… wait for it… BLOWFISH TAILS and UNI and wow, did he blow us away! We're going to take you through the creation of the dish!
FOUR STAR CHEF WEEK PRO TIP TIME
It's not every day that you see Blowfish tails on a menu, but once you know how to prepare these little nuggets of glory, they really make for one mind-blowing dish. We asked Chef Justin Baade of
Waterbar
to share a few pro tips and here's what he had to say...
"Blowfish tails have a wonderful quality of being mild and delicate in flavor, but sturdy enough to hold up to frying. We use vodka for the batter as it makes for a very crisp and clean tasting coating because the alcohol evaporates more quickly than water would when it's fried. You'll also want to slice the bone out of the tail before frying to make it even easier to eat."
Step 1:
One small long slender bone runs down the center of the blowfish tail. Cut two fillets with a pairing knife on either side of the bone.
Step 2:
Season the tails with salt and pepper. Make a simple batter using ice cold vodka and all purpose flour. Mix well - consistency should be that of a thin pancake batter. Toss the blowfish tail in a bit of flour, shake off the excess, then it is ready for dipping in the batter and frying.
Step 4: To make the risotto...
Heat the cooking fat or oil in a 4-quart saucepan.

Add onion & aromatics.

When the onions are translucent, add Carnaroli rice, and stir consistently until warmed through. Add a splash of white wine. Maintain over medium-heat.

In a separate saucepan, let beet juice come to a boil and simmer in a 4-quart saucepan until reduced by half. Set aside to cool.

In another saucepan, add 6 cups of chicken broth and boil. Let simmer.

Add the chicken broth to the risotto mixture in three parts, stirring constantly. Let the first addition of broth absorb into the rice, then add the next part. Repeat for the third addition. Keep stirring - this is how you build the creamy quality of risotto.

Add the beet juice. Keep stirring constantly until the mixture becomes a creamy consistency. You will know when your risotto is done when the required amount of liquid has been fully absorbed. The rice should still maintain a distinct form and texture.
Stir in Parmesan and butter, if desired. Season with salt and pepper to taste. Let risotto sit for a few minutes.
Step 5:
While the risotto is cooling, deep-fry your blowfish tails until golden and place on a rack to drain.
This can be done in a cast-iron pan. Add vegetable oil and heat to 350 degrees. The oil should be hot (not smoking) when the fish goes into the pan. Lay the tails in the pan. Make sure they are all separated by an inch during the cooking process. Fry roughly 2 min on each side. When the surface is crisp and golden brown, it's done. Place on a rack and drain.
Step 6:
Plate your risotto first.
Step 7:
Add your fried blowfish tails.
Step 8:
Place uni over the beet risotto and add some sliced winter citrus.
Step 9:
Garnish with chives.
Step 10:
Grate some fresh horseradish over the top.
RUBY BEET RISOTTO, UNI, WINTER CITRUS, & FRESH HORSERADISH
---
"We really loved the blowfish tails cooked like this and thought it really showcased the flavor and texture of them which is pretty unique. The beet risotto brings in a creamy textural component with the earthy sweetness of the beets. And the uni almost melts in two and brings with it the essence of the sea. A little bit of citrus to keep it light and a nice grate of fresh horseradish to add the little bit of spice."
ABOUT CHEF JUSTIN BAADE
Justin has been Waterbar's Chef de Cuisine since the restaurant's 2007 opening. He credits his mother's Mediterranean cooking style and love for preserving fruits and vegetables as his inspiration for cooking. A native of Albuquerque, New Mexico, Justin started his restaurant career at a pizza parlor near his high school when he was just 16 years old. After graduating from the New England Culinary Institute, Baade moved to Portland, Oregon and began working at Wildwood restaurant, where he developed a passion for seasonally driven dishes with a focus on local farms and artisans.
After moving to San Francisco in 2005, Justin accepted a position as line cook at Farallon. He was promoted to sous chef after just five months. In 2007, Baade was approached by executive chef Parke Ulrich to help open Waterbar and has served there as Chef de Cuisine since. When asked what the best part of being a part of the Waterbar team for more than a decade has been, Baade cites the lasting friendships and relationships he has formed. "Our amazing staff, a long line of very talented cooks, great guests and the incredible fishmongers, farmers, foragers, and artisans that bring us some of the best product in the world are the very essence of what makes our little community so special."
Justin lives in Oakland with his wife and two children. In his spare time, he enjoys hikes in the Oakland hills, seaweed foraging, and teaching his kids a passion for food and nature.